Last week I wrote a post on my top toys for toddlers and preschoolers, with a particular focus on encouraging speech and language development. This week it's time to focus on the babies! Playtime for babies can be quite haphazard as you try to juggle it in between feeding, settling, sleeping and everything else you need to get done during the day. Babies tend to have a very short window where they are awake, alert, happy and settled all at once. Therefore, we need to move quickly when they have entered this Zen like state and take advantage of this time, which signals that they are ready to learn!
I have compiled the following list of my top toys for babies and infants. The toys listed will not only keep them engaged and stimulated but will encourage the development of their cognitive, gross motor, fine motor and communication skills as well. Here they are in no particular order…
1. An Activity Mat / Baby Play-Gym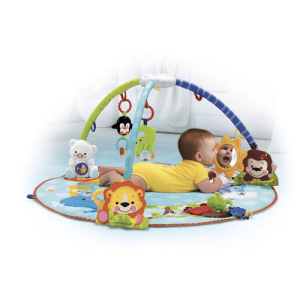 There are so many activity mats and baby gyms available that it can become a bit overwhelming knowing where to start. However, there are a few key features to look for that can make a big difference as to how much your baby will enjoy playing with it, and how often you will use it. Look for play gyms that have a detachable mat (the bigger the better!) that you can easily throw into the wash. Also try to find one with toys that can be removed from the arches. This enables you to take the toys off and let baby play with them on their own and explore them in different ways. You also have the flexibility to add new and different toys to the play gym, and move them all around into different positions and heights.
Personally, I used a Fisher Price Tri-Arch Musical Gym with both of my babies and absolutely loved it! I found the size of the mat was large enough that baby had lots of room to stretch, roll over and wiggle around to get to and play with different toys. The musical features are nice but it is important to be able to turn them off so the baby gets a chance to gurgle and coo to itself and hear what's going on around them.
2. Stacking / Nesting toys
These types of toys help children learn lots of different concepts while they play such as, prepositions (in, on, under), colours, sizes (small, bigger, biggest) and counting. They are also a great way to develop problem-solving skills, for instance, figuring out which cup fits best and understanding cause-effect relationships. You can make a game of hiding other toys under the cups too. Young babies will think the toy has disappeared and will enjoy the surprise of seeing it again (just like peekaboo) whilst older babies will have figured out it is still there and will enjoy finding it.
3. Balls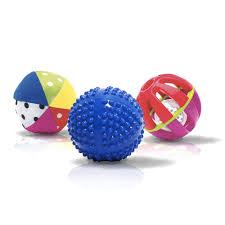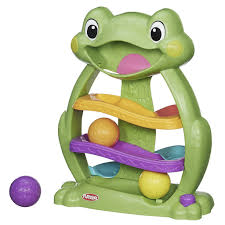 I don't think I have ever met a child who wasn't interested in balls. My son's first word was "ball". "Mama" didn't come out until much, much later. Clearly he had his priorities in order.
Balls provide so many wonderful opportunities for speech and language development! You can play with a ball on it's own, you can take it to the park or the beach, you can put it in water (if it's plastic!) and there are many toys that have balls doing fun and crazy things like popping up or rolling down ramps. You can teach your child lots of different words while you play including verbs (action words) such as, roll, throw, catch, stop and go and adjectives (describing words) such as, fast, slow, soft, smooth and spikey.
Playing with balls is also a lovely way to develop social communication skills. The simple game of rolling a ball back and forth to your child helps them learn very important turn-taking skills, non-verbal communication skills (e.g., facial expressions, body language and gestures) and hopefully encourages them to eventually use a word such as "more" or "again" to keep the game going.
4. Shape sorter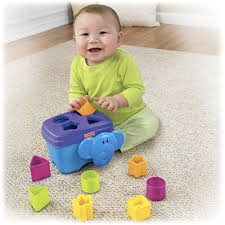 Shape sorters are a great way for children to learn shapes (what a surprise!) as well as words such as full and empty and open and close. They also encourage problem-solving skills as babies and infants learn how to manipulate the shapes when they get stuck and won't go in.
5. Cars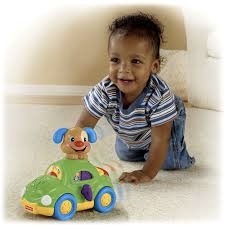 A big toy car (or any other vehicle) is a lovely way to encourage your child to make fun sounds such as, "brrmmm", "beep beep" or "toot toot" while they play. Many of the vehicles made specifically for younger children play songs and make other noises. Whilst this can make them more appealing to your baby, don't forget to turn the sound off sometimes (or take the batteries out) so that your child gets the chance to make the noises for themselves.
A special mention… Books!
It is never too early to introduce your baby to books! Soft cloth books and sturdy board books with big, simple, colourful pictures are ideal. However, since this is a topic I feel so strongly about, I am going to stop myself now and save that discussion for another day.
The best toy of all…
There are some fabulous toys available these days but none of them compare to YOU! Spending time talking to, playing with and touching your baby (or child of any age for that matter!) is so much more important than giving them the perfect toy. As important as the housework and other chores are, your interaction with your baby and children is more important. So as often as you can, talk to and play with your baby while they explore their toys and you will be amazed at what they discover!
Don't forget to Like Modern Speechie on Facebook for more information and tips to help children be the best communicators they can be!
NOTE: The opinions expressed in this post are purely my own. I am not sponsored by any of the aforementioned companies.